Experience excellence in service when you visit us!
We offer a wide variety of top quality services to fit your needs. Our experienced staff will help you determine the best services for your needs and deliver the kind of quality and value you expect from a professional medical spa . Our location is designed to make your experience enjoyable and leave you feeling inspired! Check out our complete service menu below to get a feel for what we do. Please note: Service prices and availability are subject to change without notice.
Medical Skin Services
Medical skin services to treat acne, burns, or other cosmetic blemishes on your skin.
Is the only hydrate procedure that combines cleansing, exfoliation, extraction, hydration and antioxidant protection simultaneously, resulting in clearer, more beautiful skin with no discomfort or downtime. The treatment is soothing, moisturizing, non-invasive and non-irritating.
There are four steps:
Step 1: Cleansing and exfoliation. The technician uses a small "deplaning" tool that opens up pores and sweeps the uppermost layer of makeup debris and dead skin cells away. It felt like a spinning toothbrush was being run over my face.
Step 2: Acid peel. Most glycol peels leave your skin stinging for a few minutes until they're washed off, but not this one. The glycol/salicylic acid peel is gentle enough that it only creates the faintest tingle.
Step 3: Extractions. If you're the type of person who gets off on seeing what comes out of your clogged pores, this is the part of the treatment you'll love. Instead of performing manual extractions, the technician uses something rather elaborately called a vortex-extraction nozzle that acts as a vacuum. The sucking sound it makes is oddly satisfying, but the best (or the worst?) part is the cup at the base of the machine that shows exactly what was extracted—and it's more than you think.
Step 4: Serum applications. This step uses the vortex-fusion tool, which infuses an antioxidant-and-collagen-rich serum into the skin to promote elasticity and hydration.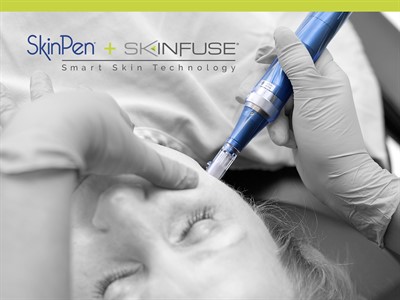 SkinPen Microneedling Procedure
SkinPen: The Next Advancement in Micro-TherapySkinPen is a medical grade, Skin needling, also called microneedling therapy, collagen induction therapy (CIT), and percutaneous collagen induction (PCI), is a minimally invasive skin-rejuvenation procedure that involves the use of a device that contains fine needles. The needles are used to puncture the skin to create a controlled skin injury. Each puncture creates a channel that triggers the body to fill these microscopic wounds by producing new collagen and elastin. Through the process of neovascularization and neocollagenesis, there is improvement in skin texture and firmness, as well as reduction in scars, pore size, and stretch marks. Topical anesthetic cream is used to keep the patient comfortable during the procedure. Patients should be advised that multiple treatments will be necessary. The number of needling sessions depends on the individual skin condition. Three or four treatments may be recommended for mild to moderate acne scarring, whereas deeper scars and stretch marks may require upward of five treatments. An interval of 4 to 6 weeks between treatments is typically recommended.
Microdermabrasion services employ gentle abrasion to exfoliate and remove the dead outer layers of skin clean your pores and give you smooth and beautiful skin. MicroExfoliator offers the latest advancement in epidermal exfoliation treatment from utilizing the new and revolutionary GMP tip to overcome the inconveniences from dusty issue of crystals, and problems associated with possible cross-contamination from the use of crystal tips.
Benefits:
Removes dead skin

Enhance smoothness

Increase radiance

Stimulate collagen production and fibroblastic activity

Reduce acne scars and wrinkles

Assist in active acne treatment

Lighten pigmentation
Microcurrent therapy is all about light, color, energy, and healing. Applying colored light and gentle electrical stimulation triggers the body's natural skin enhancement chemicals at a cellular level. Clinical studies have shown that after twenty days of treatment collagen production increases by 14%, elastin increases by 48%, and blood circulation increases by 38%. Scientists have also found that microcurrent facelift treatments trigger the body's production of amino acids and adenosine triphosphste (ATP) which accelerate cell repair and promote healthier cell production.
Benefits of Microcurrent Facial Rejuvenation:
Restores those messages from the brain to tell the skin to rejuvenate.
Helps tone facial muscles by replicating our own biological currents.
A safe alternative to the invasive and risky treatments on the market today.
Counteracts the effects of sun damage, premature aging and poor dietary habits, without surgery.
An assortment of nourishing and rejuvenating facial products are also used in our clinic to revitalize and tone your skin.
Improves the overall appearance of the face and neck.
Treatments are painless and no electrical currents is felt, just maybe a very light tingling.
Enhances and prolongs the results of chemical peels and surgery when those procedures have been chosen.
Treatments can leave you feeling energized and youthful.
No risk of toxic injections under your skin that leave the face stiff and the muscles rigid.
Top Hollywood stars and international models, currently use this safe alternative to enhance their beauty and promote anti-aging.
<!!this><!!photo><!!photo><!!this><!!photo><!!photo>
| | | |
| --- | --- | --- |
| | | |
<!photo left="" on="" the=""><!photo on="" right="" the=""><!this is="" row="" the=""><!photo left="" on="" the=""><!photo on="" right="" the=""><!this is="" row="" the="">
Treatments that revive your skin as it is resurfaced, infusing it with targeted nutritional formulas loaded with highly concentrated serums, of vitamins, enzymes, antioxidants, and essential oils.

Removes:
Wrinkles (Eyes, Lips, Cheek, Furrows, Forehead, Neck, Décolleté-Chest, etc.), Sun Damage, Freckles, Dry or Dehydrated, Collagen & Elastin Deficiency, Broken Capillaries, Hyper-Pigmentation, Hypo-Pigmentation, Acne, Acne Scarring, Rosacea, Hollowing of Jaw Line, Sagging Eye Contours, Dark Circles, Impaired Circulation, Marionette Lines and Impressions, Stretch Marks, Melasma, Pregnancy Mask, and Discoloration.
Resurfaces:
Resurfaces & Removes imperfections along with the dead surface skin cell layers that block external topical nutrients from entering the skin.
Delivers:
Delivers External Cosmeceutical nutrients, vitamins, and antioxidants into the newly exposed and absorbent skin, supporting the reversal of its aging process.
Triggers:
Triggers 48-72 hours of new skin cell regeneration in the Stratum Basal Layer and the synthesis of Collagen and Elastin Peptides in the Dermis, restructuring the entire skin matrix from Dermis to surface within a Reversing TimeTM Program.
Creates:
Creates a Facelift thickening of Extra-Cellular Lipids (moisture barrier replenishment) in the Stratum Granulosum, an underlying layer of the epidermis.


!this>!photo>!photo>!this>!photo>!photo>
Chemical peels utilize gentle chemical solutions to smooth the texture of your skin, reduce mild scarring, even out your skin tones and remove pesky blackheads and blemishes while reducing excessive oils that may cause breakouts.
Dermaplaning (Epidermal Leveling)
Dermaplane is a non-invasive medical procedure that removes unwanted "peach fuzz" from the face that
laser hair removal
cannot. It also gently exfoliates skin, helping topical skin care products penetrate more deeply.
Dermaplaning is a manual, non-invasive, skin resurfacing procedure that uses a special surgical scalpel blade to remove the top layers of dead skin cells. Derma planing can be performed on parts of the face, the entire face, or anywhere on the body. It improves the appearance of acne-scarred skin and smooth out facial wrinkles on the upper layers of the face. It is also an excellent treatment for melanoma and environmentally damaged skin. Derma planing is an alternative to waxing and depilatories for
removing unwanted facial hair
, including vellums (light) hair or "peach fuzz" which is difficult to treat with light therapy or
Non-invasive skincare with instant results!
Our Revitalight Skin Care System is a safe, non-invasive, effective use of advanced Photo pulsation Light Technology designed to help diminish the visible appearance of fine lines, wrinkles, and age spots on the face, neck and hands by promoting collagen firmness. It also helps control and eliminate acne. Extensive research involving safe light sources and wavelengths has enabled skincare science to create applications that allow light emitting diodes, Leeds, to help alleviate signs of aging.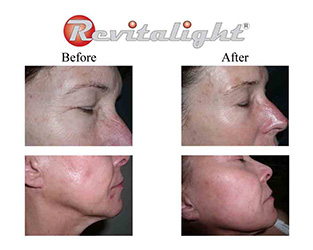 The key to LED Photo pulsation Technology (LL), is the scientific fact that skin cells are photoreceptive. The LED wavelengths which are used in our Recitalist Skincare System are less than half the strength of lasers used at their lowest levels by dermatologists, and therefore are completely harmless, yet effective. The LED succeeds by passing its light through the skin in order to help promote collagen firmness.

Pre-Filled Whitening Trays
Finest in quality, simplicity, and instant results at an affordable price
The most advanced, patent-pending prefilled tray technology that is easy to used with no mess
special proprietary whitening gel blend is designed for sensitivity with 5% potassium nitrate
used with our premium LED light for outstanding results
four to six shade improvement in easy 15 minutes session
each mouth piece comes with vacuum-sealed for freshness
the whitening gel used by White Blitz has been extensively researched through the parent company whiter image which produces whitening products for the dental industry. All products are designed to have exceptional result with minimal sensitivity and quality customer experience.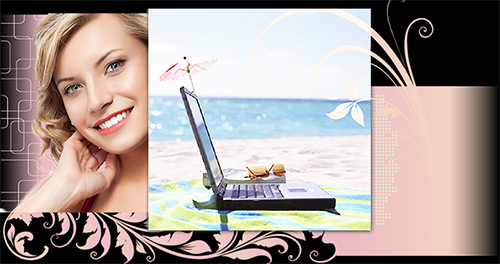 Return to Top
Service Policy
Please call (239) 529-2065 or email bellafacciallc@aol.com to schedule an appointment. Financing available upon request.