Experience excellence in service when you visit us!
We offer a wide variety of top quality services to fit your needs. Our experienced staff will help you determine the best services for your needs and deliver the kind of quality and value you expect from a professional medical spa . Our location is designed to make your experience enjoyable and leave you feeling inspired! Check out our complete service menu below to get a feel for what we do. Please note: Service prices and availability are subject to change without notice.
Facials
Experience our professional facial products and services.
Oxygen Facial (Echo 2 Oxygen Treatment)
The ECHO2PlusTM Oxygen Treatment System is uniquely designed to cleanse, nourish and revitalize every skin cell through its revolutionary use of the pure oxygen molecule. This patented system is among the first to offer both corrective and preventative skin care, especially when it comes to reducing the effects of aging caused by the sun, free radical damage, and exposure to pollutants. The OXYCEUTICALS oxygen acne treatment system is unique because it is the first professional skin care treatment specially designed to fight acne using real oxygen and skin-friendly ingredients that combine to clear clogged pores, feed, and nourish the skin and protect photo (sun) damage.
Oxygen is a natural bactericide ( that kills bacteria). An excess of harmful bacteria is almost always associated with acne breakout. Therefore, by controlling harmful bacteria, we can lessen the potential for infection, inflammation, and redness .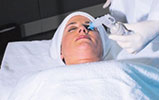 Benefit:
Feeds and nourishes the skin with over 87 different vitamins, mineral, enzymes and amino acids.
Reduces the appearance of fine lines and improves firmness and tone.
Effectively treats acne and help prevent breakouts.
Leave the skin feeling soft dewy and naturally healthy.
Return to Top
Service Policy
Please call (239) 529-2065 or email bellafacciallc@aol.com to schedule an appointment. Financing available upon request.